RCEP Explained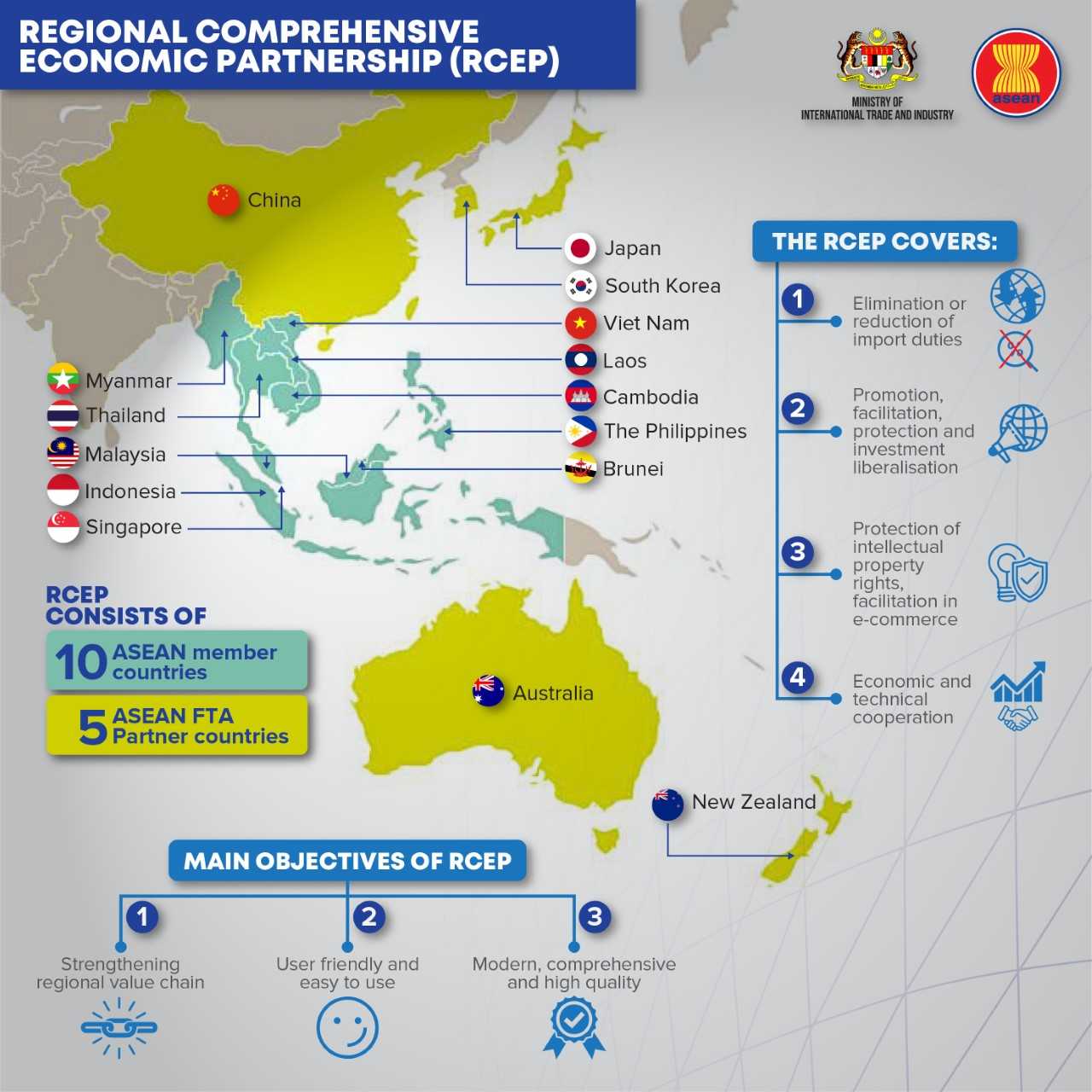 The Regional Comprehensive Economic Partnership Agreement (RCEP) free-trade agreement (FTA) was signed on November 15, 2020 at the 2020 37th ASEAN Summit. It is comprised of the following countries:
ASEAN

Malaysia

Singapore

Thailand

Indonesia

Vietnam

Lao PDR

Cambodia

Myanmar

Brunei

The Philippines

And

China

Japan

South Korea

Australia

New Zealand.
Altogether, these 15 countries account for 29 percent of the global GDP and 30 percent of the global population, making it the largest trading bloc in the world in terms of GDP.
Treaty negotiations began in November 2012 at the 21st ASEAN Summit albeit with one more country — India. However, the nation opted out of the deal in November 2019 amidst strong domestic opposition from farmers and industrialists. RCEP is expected to come into force in about a year after a minimum of 6 ASEAN and 3 non-ASEAN countries ratify the agreement, though this is not expected to be much of an issue (unlike the Trans-Pacific Partnership).
Terms of the Agreement
RCEP's official objective is to "establish a modern, comprehensive, high quality and mutually beneficial economic partnership framework to facilitate the expansion of regional trade and investment and contribute to global economic growth and development". It expands upon existing ASEAN Plus One FTAs in four areas: trade facilitation measures, market access for Trade in Services, investment rules and disciplines, and expanded scope and commitments. Several provisions have drawn particular attention from analysts: first, tariffs on 90 per cent of goods will be eliminated; second, rules of origin (ROO) will be unified under one common standard; third, customs procedures will be streamlined to allow for faster clearance; and fourth, an estimated 65 per cent of service sectors will have foreign shareholding limits increased. All in all, as Singapore Prime Minister Lee Hsien Loong so aptly put it, "RCEP shows Asian countries' support for open and connected supply chains, freer trade and closer interdependence." [1]
RCEP versus CPTPP
RCEP may not be the first mega-regional FTA in the Asia-Pacific, but it is certainly the first of its kind. Whereas the pre-existing Comprehensive and Progressive Agreement for Trans-Pacific Partnership (CPTPP) is composed of relatively strong and developed economies including four North and South American countries (Canada, Chile, Peru, and Mexico), RCEP is incredibly diverse, encompassing least-developed countries (Laos PDR and Cambodia) as well as the second and third-largest economy in the world — China and Japan. Thus, the RCEP is less ambitious than the CPTPP and does not have any provisions pertaining to labour rights and environmental protections (which the CPTPP does). The Institute of Strategic and International Studies (ISIS) of Malaysia has thus stated "RCEP is both wider and more shallow, while the CPTPP is narrower but deeper."[2]
The China Element
Whilst many have become fixated on China's involvement in RCEP viewing it solely through the lens of the Sino-American rivalry, it must be remembered that the Agreement was ASEAN-initiated is ASEAN-centric at the core. RCEP will help to reinforce the fourth pillar of the ASEAN Economic Community (AEC) which is to further integrate the region into the global economy. Since the establishment of the China-ASEAN FTA in 2002, trade between the two regions have only continued to grow, and in the first-half of 2020, ASEAN overtook the EU to become China's top trading partner. Regardless of the outcome, Malaysia will have to be shrewd and continue to search for new partnerships and alliances should it want to remain competitive in today's world.
RCEP and the Digital Yuan
As RCEP provides China with further opportunities to extend its influence, Oriol Caudevilla, Ph.D., a digital currencies specialist currently based in Hong Kong, argues that "RCEP will pave the way for the expansion of CBDCs [(Central Bank Digital Currencies)] throughout Asia."[3] He believes that RCEP is perfectly in line with China's 'Dual Circulation' strategy (双循环) by increasing domestic Chinese demand while increasing foreign trade and investment, and China could leverage the RCEP to force the adoption of the digital yuan overseas through trade.[4] Whilst only time will tell how RCEP and the digital yuan will evolve, the future of the ASEAN-China partnership looks bright for both sides.
Dato' Lawrence Liu
Deputy Chairman, Head of Trade & Industry Sub-Committee
---