Students Trust Fund 2022 Christmas Fundraising Drive - 3D JellyJab Cake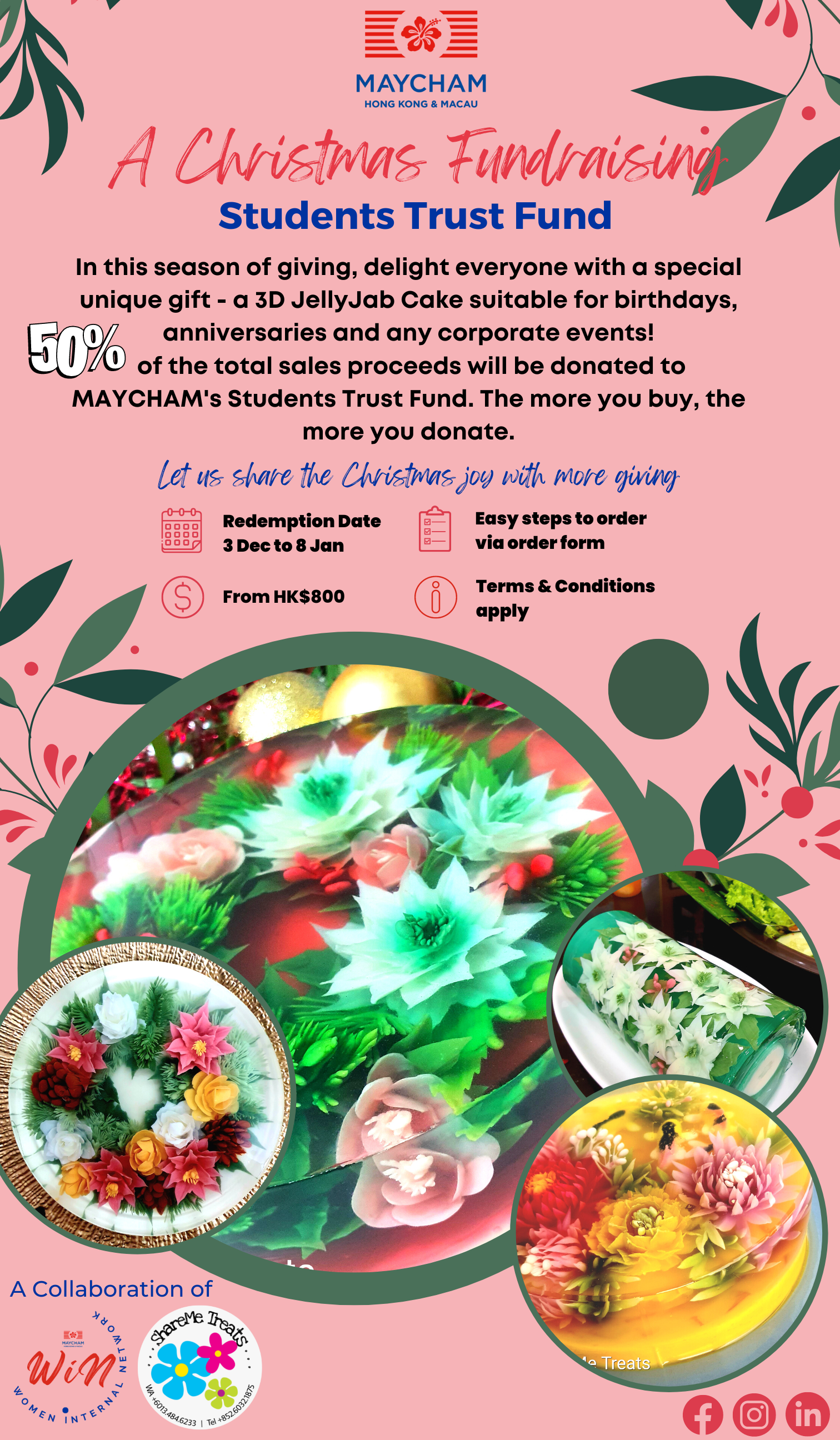 As the Christmas season is around the corner, we are all thinking hard of what to get as a gift to our dearest and closest. 
MAYCHAM is delighted to be collaborating with ShareMe Treats in a fundraising drive for our Students Trust Fund this year. 
Delight your family, friends and co-workers with something unique and different this festive season - a 3D JellyJab Cake! It is beautiful, not to mention, delicious and suitable for any functions - birthdays, anniversaries and corporate events. 
For every 3D JellyJab Cake purchased (from HK$800 up), 50% of the total sales proceeds will be donated to the Students Trust Fund.
Details of the cakes are as follow:
All cakes are 8" diameter, approximately 2.5 to 3kg.
Each cake is suitable to serve 8 to 10 generous servings or 15 to 20 small servings.
All cakes are Vegetarian friendly. Full cream milk is used as a base for the colours, if you wish to have a Vegan cake, please add the Vegan Option in the Order Form 
To order, simply follow the following steps:
1.     Fill in the Order Form with your choice of cake selections.
    There are a total of 4 cake design options :
Flower Garden
Koi Fish Pond
Christmas Wreath
Christmas Jelly Roll
2.    Complete your order with your payment (only via PayMe or FPS, details are included in the Order Form)
3.    Confirm pickup/delivery information with Siamy of ShareMe Treats via Whatsapp
IMPORTANT NOTE
There is a limit of 10 bookings of cake orders per day. Please order early to secure your booking
Orders of more than 10 cakes will be fulfilled over 2-3 days. 
Redemption period is from 3 December to 8 January (you can start ordering now!)
If the link in the Order Form doesn't work, pls copy and paste the link below to your browser page. 
     https://form.jotform.com/siamytan/MCCHKM_3D_JellyJab_Cake_Order_Form
SHAREME TREAT STORY
ShareMe Treat is founded by Siamy, a 3D JellyJab artist by hobby. She hails from Malaysia and visits Hong Kong regularly as a HK permanent resident. Both Siamy and her husband, Xavier are passionate in using their skills and talents to contribute, serve and give back to the community. Siamy's 3D JellyJab Cakes was featured in the South China Morning Post print and video in July and August 2022 respectively. No two cakes are the same at Siamy's. They are indeed one of a kind, individually and uniquely designed and crafted, making it the perfect gift for your loved ones. 
Now, what are you waiting for? Take your Christmas names list out and start ordering NOW. You're not just gifting a delicious unique cake to them, you're also making a wonderful contribution to MAYCHAM's Students Trust Fund, helping students in need in Hong Kong!
"The true spirit of Christmas is giving and sharing love, joy and peace"
Thank you in advance for your thoughtful and generous contribution!
This fundraising drive is a joint-project of MAYCHAM Women Internal Network (WiN) and ShareMe Treats.