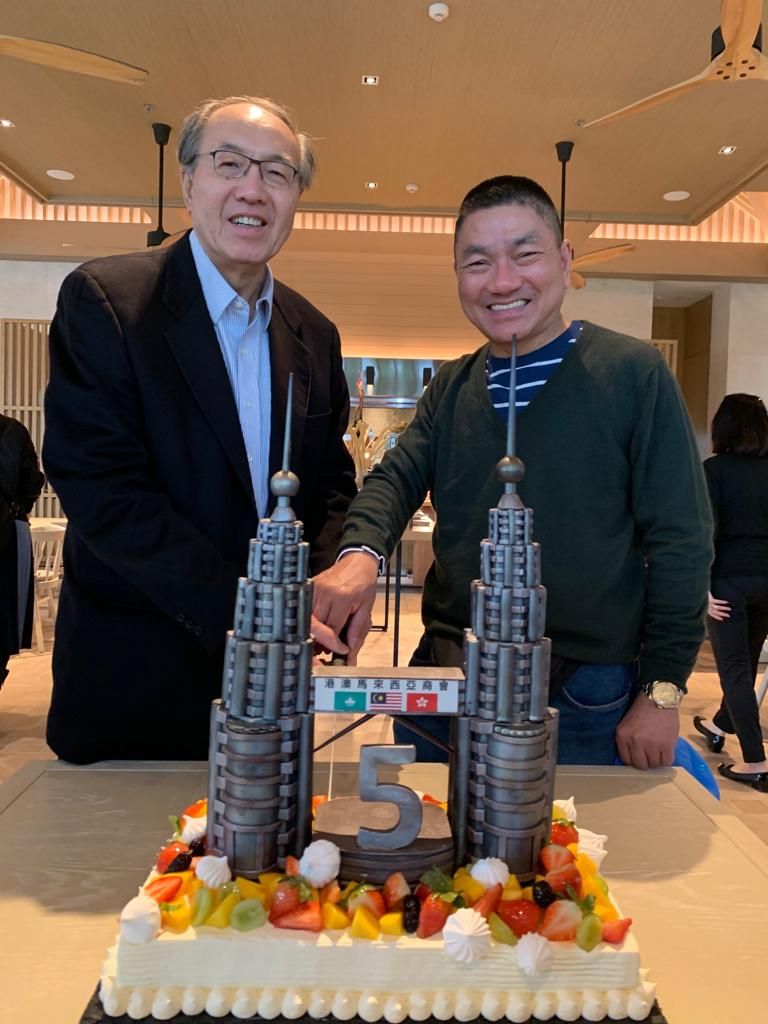 Welcome to the first edition of "Teh Tarik with Saniza," a lighthearted column where we get up close and personal with the personalities who are passionate about flying our Jalur Gemilang. Befittingly, our first two interviewees are the current Co-Chairmen of the Malaysian Chamber of Commerce – Dato' Gan Khai Choon (Gan) and Dato' Seri Cheah Cheng-Hye (Cheah).
It was a beautiful winter's day, the sun was shining and the air crisp. Cheah and Gan were just finishing their golf game, and running a little late. I was first to arrive at the restaurant in the Clearwater Bay Golf Club. I found a table away from the busy lunchtime crowd. Cheah arrives looking very sporty in his golf gear with a big Buddha smile and a couple of minutes later a freshly showered Gan appeared full of energy and younger than his years.
What better time to catch up with both gentlemen than after a game of golf on a glorious day. We exchange pleasantries and as we were familiar with the menu, swift orders were made. The food came fairly quickly and I began the interview, alternating questions between Gan and Cheah. There was great mutual respect between the gentlemen, but like old boys, they would banter lightheartedly at each other's responses and stories.
Let me begin with Gan, our founding Chairman of MayCham. As Gan regularly attends MayCham events, his face is familiar to many of our members and probably requires little introduction. As the host of many events at the JW Marriott Hotel in Admiralty, Gan is the Managing Director of Hong Leong International (HK) Limited. He oversees all the business interests of the Hong Leong Group in Greater China North Asia with over 100 hotels and present in all the major cities in the region. Although he is known as a first-class hotelier, Gan began his career as a merchant banker and received a scholarship from the Mercantile Bank which was later acquired by HSBC. He was the Branch Manager of HSBC at Kuala Lipis and later Butterworth before joining Hong Leong Group. A 30-year veteran in Hong Kong, Gan was the driving force behind the formation of the Malaysian Chamber of Chamber in 2014.
Gan grew up in Parit Buntar, a small town in Perak bordering Penang and Kedah. I share something in common with Gan – he is a proud alumnus of Penang Free School as is my father. Attending Penang Free School from 1961 until 1967 was a momentous part of his life. He reminisces and tells the story as if it happened yesterday. "I was in Standard Six and my father wanted me to go to Penang Free School. But the school was full. There were no more places. Although I qualified, I couldn't get in. But then a couple of days before the school opened, my father got a call informing him that one student wanted to go back to India. So I took his place and managed to get in." Gan has great affection for Penang Free School, calling it the most beautiful Malaysian building, proudly reminding me that he spent "7 years in the building and she is still standing today!" Gan admitted that, "if I hadn't gone to Penang Free School, my life would have been completely different." And after a pause, he says with some reflection, "sometimes things happen for a reason."
Gan is a tall man, a six-footer, with long limbs and walks with a straight back. With such gifted physique, it is no wonder he is known as the "sportsman" at school. He reminisces his days at secondary school, "I grew up swimming in Batu Ferringhi and I went there almost every day for swimming practices and water polo." He enjoyed playing all types of sports and represented Penang Free School in school competitions for swimming, water polo, short-put, rugby, badminton etc. I asked if there was any sport he didn't play, to which he chuckled, "cricket!" Gan still keeps a lean figure and works out regularly at the gym and of course on the golf course!
Apart from sports, Gan has a good appreciation for music. His favourite artist is fellow Penangite Jimmy Boyle, an illustrious jazz pianist, songwriter and composer. Gan enlightens me with  trivia that Jimmy was the composer behind the iconic song, "Putera Puteri". In addition, the connection for Gan was that when Jimmy was a schoolteacher at St Xavier's Institution, he was the captain and the manager of the combined schools' athletics team. He brought students from Penang to Singapore for inter-school sporting competitions. And Gan would travel with Jimmy in the same bus and train during those sojourns in 1965.
What strikes me most about Gan is that he is all heart and soul. He tells me that a perfect weekend for him is "being able to do something that makes a difference to someone's life." This is really the philosophy behind his passion in the establishment of The Malaysian Chamber (HK & Macau) Students' Trust Fund. The Fund has raised over HKD 5 million and benefited over 30 student recipients to help them get through their living expenses in Hong Kong.
A Malaysian interview would not be complete without talking about makan. Although we talked over a cup of teh tarik, he would have much preferred drinking ambra juice – a complex equatorial sour fruit aka "Buah Kedondong" – served as a blended drink that is mixed with water and sugar to taste refreshing. His favourite fruit is none other than the king of fruits – Durian. No wonder we see him at all the durian parties. And he would never miss a plate of authentic Penang Char Kway Teow!
***                                  ***                                  ***              
My next guest is Dato' Seri Cheah Cheng Hye. Cheah is the Chairman of Value Partners Group. Founded in 1993, Value Partners started with less than USD 4 million of assets under management. And through his hardwork and leadership, it is now amongst the largest independent asset managers in Asia with about USD 18 billion of assets. He has recently opened an office in Kuala Lumpur, a subsidiary licensed by the Malaysian government. Dubbed as the "Warren Buffet of the East", Cheah carries a lifetime of achievements with over 200 awards and accolades given to his company since its founding. Cheah's career path is very interesting as he started as a journalist reporting on crime and politics for many years, well into his thirties. His transition into finance was through working as a financial journalist at The Star, Far Eastern Economic Review and the Asian Wall Street Journal. This paved the way for him to become an investment analyst in the 1980's and the rest, as they say, is history.
While preparing for this interview, I did wonder what I would learn about Cheah that is not already out there. This is especially so as he has given thousands of interviews with the media. And as a former journalist, he would know the secrets of my trade.
 As I talk to Cheah, what is striking about him is his authenticity, and he says his philosophy in life is "to tell it the way it is." He wears his success lightly and maintains an amazing air of humility, which allows people to connect and relate to him. Asked how he would describe himself, he chuckles and says, "I am just a plain John. I am pretty straight forward and very much a working guy."
We talked about Cheah's childhood. And he shared memories of his humble beginnings growing up in Penang. Like Gan, Cheah went to Penang Free School albeit just after Gan between 1967 and 1971. One of his favourite memories was during Chinese New Year in Georgetown; it was a "very festive atmosphere. At that time you were allowed to have firecrackers.  There was always a bit of harmless gambling. And for the kids, it was a wonderful time of the year because that was the only time you could drink F&N orange juice. Because we were poor people, that is the only time in the entire year we were allowed to drink that sort of soda." Cheah tells me another special childhood memory was in receiving his first long-sleeved blue shirt when he was 15 years old. It was given to him by his maternal auntie who sourced it all the way from Hong Kong.
Running one of the largest hedge funds in the region, Cheah has a busy and grueling schedule. Cheah admits that time is his most precious resource. Saying candidly, "I am extremely conscious that every human being has 24 hours in a day. So, I try to make the most use of my 24 hours that I have. When I am on airplanes, I will use the time to meditate. When people are watching movies on planes, I use the time to either read research or meditate. I am a time fanatic." Cheah's schedule is constantly peppered with meetings, speaking engagements and work travels but he holds his family dear at heart. When asked to describe the perfect weekend, he answers with skepticism that, "there is no such thing as a perfect weekend. In real life, I am drifting from one week to another. If I have the choice, the ideal weekend is to spend it with his family in their holiday home in Penang. There would be no appointments and no phone calls, but that is very rare. It is something that may happen two or three times a year."
Sitting in front of one of the greatest value investors of all time, I ventured to ask for some advice. And in reply, Cheah believes that, "Malaysia is the best place in the world to visit right now. It is very attractive because of the weakness of the Ringgit. Prices are very attractive. And there is a lot to see and do there." As a value investor who appreciates and collects fine art, Cheah and I share a common admiration for fellow Penangite, Yong Mun Sen. He says wistfully, "I admire Yong Mun Sen. I don't have his works. But I have a book about him. At the time I was interested in his work, it was too expensive. And I used to look at his artwork with great interest."
And before Cheah could make a dash to meet his family, I asked him about his favourite makan. I found out that he loves the king of fruits – durian. And to balance out the heatiness, he likes barley water for its cooling ying-yang. And of course like most Penangites, he wouldn't miss a good plate of Penang Char Kway Teow.
Scribbling the last few words on my note pad, I thanked Gan and Cheah for being such great conversationalists. How time flies ever so quickly and before we knew it, lunch was over. Cheah had to run off first. And Gan in true gentleman style, waited with me to settle the bill and walked out with me.
I would like to thank both our Co-Chairmen for being such good sports (no pun intended in a golf club). And to all our lovely readers, please stay tune for my next column.
Sehingga kita jumpa lagi over a cup of teh tarik!
Saniza Othman
January 2019