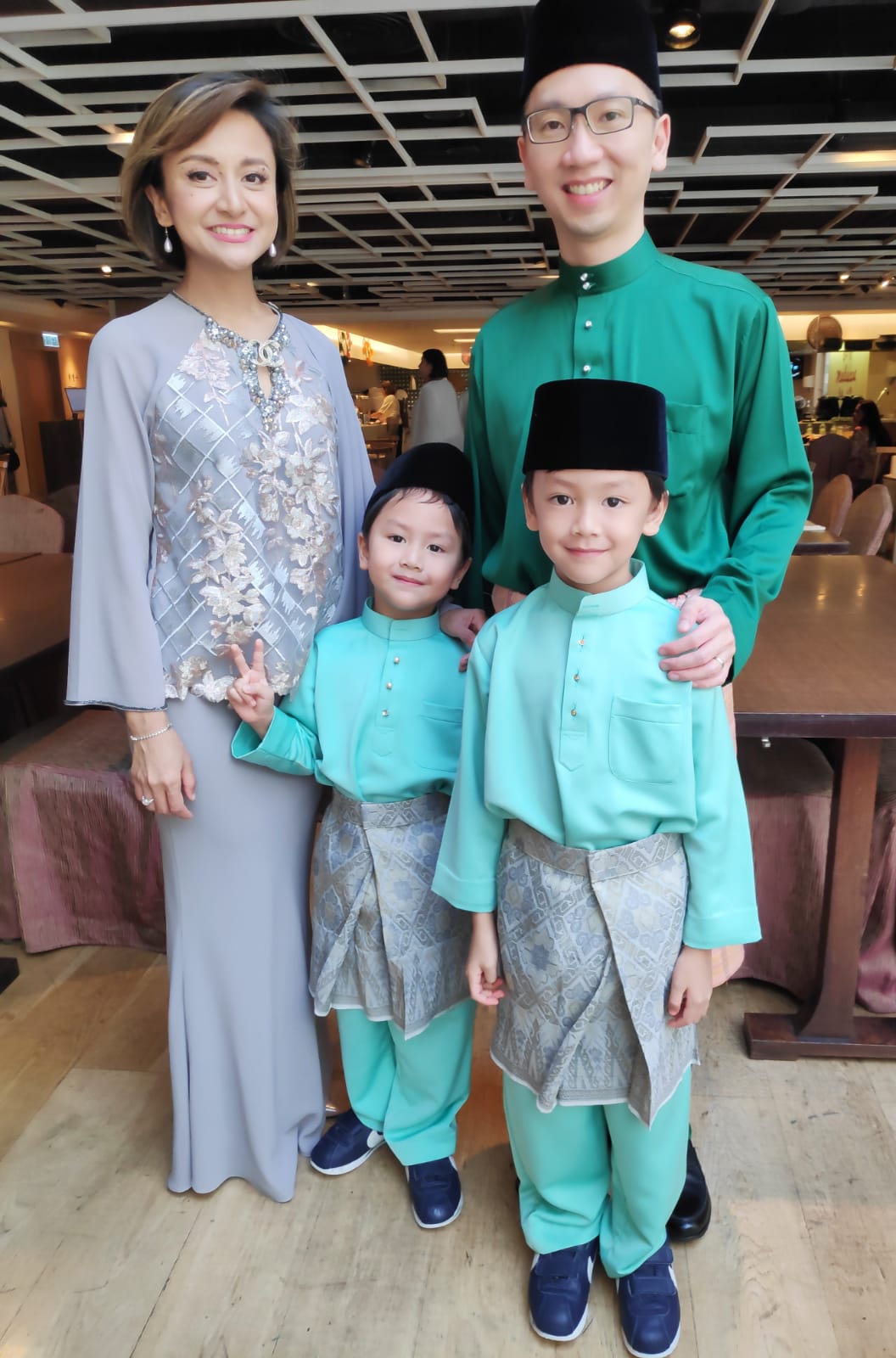 Looking out to the south side of Hong Kong, I take in the fresh evening breeze as the sun begins to set behind the mountains of Lantau. The doorbell rings. As I make my way to the entrance, I am greeted by CG Yap and his beautiful wife Azlin. It was Labour Day, and he was looking relaxed in his buttoned up short-sleeved shirt and tan colored slacks. They arrive just in time to catch the tail end of the sunset. Standing on Victoria Peak, we admired the panoramic view from Lamma to Cheung Chau, Lantau and Mui Wo. CG remarked that Hong Kong is an amazing place - in the hustle and bustle of a concrete jungle - Hong Kong has great outdoor space in the seas and mountain hiking trails. Asked for his first impressions of Hong Kong, he replied with excitement, "Hong Kong is great. It is a vibrant city, a major trading hub and financial centre regionally and internationally. This should be a busy and memorable posting."
Coincidentally, we are both graduates from the University of Wales, Aberystwyth, and we broke the ice by exchanging notes on student life and the university's quaint historic seaside town, that is home to the National Library of Wales and the largest Arts Centre in Wales. Aberystwyth has nurtured many high profile Malaysians, including notable Fellows such as Tun Ghazali Shafie, Tun Salleh Abbas, HRH Tuanku Ja'afar, Tan Sri Ahmad Don, Tan Sri Dato' Seri Arshad Ayub, Dato' Zawiyah Baba, Datin Mariam Kadir and many others. Following the footsteps of these great men and women, CG completed his Masters in International Politics in 2004. As general trivia, the School of International Politics, founded in 1919, is ranked amongst the top 10 in the United Kingdom. CG also read International Relations as an undergraduate at the University of Hull. A career diplomat, he  was previously posted in Manila and Kuwait and served in the American and Middle East Desks at Wisma Putra. Prior to this posting, he was a Director at the ASEAN-Malaysia National Secretariat and Special Officer to the Secretary General of the Foreign Ministry.
While the kitchen was busy preparing a vegan meal befitting to a hot summer's day, I asked the CG about his childhood. His face lights up as he recollected his favourite childhood memory. "Do you remember MIMA land? That would probably be my favourite childhood memory. I would go there with my brothers. I am the youngest of 3 boys.  Obviously it's not there anymore. It's my best childhood memory but at the same time, a memory that I cannot remember too much about. So it is just the memory of the feelings." With his jovial and candid personality, I discovered the CG has a good sense of humour. When asked what 3 wishes he would bring to a deserted island, he chuckled, "my wife and my sons!" I gave him a free pass to allow his wife and sons to count as one. And without skipping a beat, he continued in good jest, "then a good book. And the third thing would be a magic lamp that would give me all my wishes. So you can cancel the book. I don't need the third then."
CG is truly exemplary of what Malaysians should be. In a cross-cultural marriage to his charming wife Azlin Ariffin Shah and their 2 sons, his family is an embodiment of Malaysia's beautiful multicultural pot. CG proudly said, "Malaysia is famous for being a harmonious multi-cultural and multi-ethnic society. I suppose my family is like that. We especially enjoy celebrating many religious and cultural holidays with both sides of the family." He continued to count his blessings saying, "mixed marriages are quite enriching. My wife and I enjoy handing out money-packets at both Chinese New Year (ang-pow) and Hari Raya (duit-raya), not to mention gifts during Christmas."
Although CG is new to Hong Kong, I asked him for the priorities of his mission. He starts off by acknowledging, "diplomatically, there are no irritants between Hong Kong and Malaysia, and bilateral ties are in good stead." This would allow him to "enhance the scope and substance of Malaysia-Hong Kong trade and investment relations." He went on to recognize that while commerce and finance are important, they should not be the only focus. There is significant potential for greater tourism and cultural exchanges, as well as education. He was also quick to point out that, "I am fortunate to have inherited an able team from my predecessor, Tengku Dato' Sirajuzzaman Bin Tengku Mohamed Ariffin. It is early days, but by the end of my time in Hong Kong, I hope that meaningful progress would have been achieved in the interests of Malaysia-Hong Kong relations." As the main course was being served, the conversation shifted to arts and culture. He passionately expressed, "another area of my interest is to do more in promoting Malaysian art. I am looking at ways to promote some of the better-known Malaysian arts and culture. Batik, kraftangan and some Malaysian performance arts from Istana Budaya."
Like all civil servants, CG is passionate about flying our Jalur Gemilang. He says one of the best-kept secrets about Malaysia is "the quality of living is relatively high while the cost of living is relatively low. Same goes for education and medical care." He continued to add that Malaysia has wonderful beaches and culinary delights. Taking this cue, I ask him to share his favourite Malaysian cuisine as no Malaysian gathering is complete without sharing good makan. Fitting to a summer's day, CG admitted that his favourite Malaysian dessert is cendol. And if it is all natural, then he enjoys mangosteens. But of course his most favourite cuisine is his mother-in-law's sup ekor, a savory ox-tail soup simmered for several hours.
From food, we turned to sports. CG was quick to admit that he does not have much time to play sports these days but loves to watch a good match. His favourite games are tennis and football. His favourite sportsmen are Zinedine Zidane, Roger Federer and Marcelo Rios. For him, it is not just about winning, but "players should have a bit of finesse when they perform. It is the style that I appreciate and great players all have a bit of character."
Having spent an evening with CG, from light hearted matters to serious topics, what I found striking about him is his calmness. Ask him any question, he answers each one thoughtfully and with measure. He never rushes and always pauses to reflect on his answers. As the evening draws to a close, I asked him if he has a message to share with our fellow Malaysians in Hong Kong. He starts off by recognizing that "by and large, Malaysians here have represented our country well and helped to keep the Malaysian flag flying high. We all need to keep doing that and maintain Malaysia's good name in Hong Kong. In a way, all Malaysians are Ambassadors of our great nation."
Thank you for your time CG. And to all my lovely readers, sehingga kita jumpa lagi over a cup of teh tarik.
Saniza Othman
Summer 2019