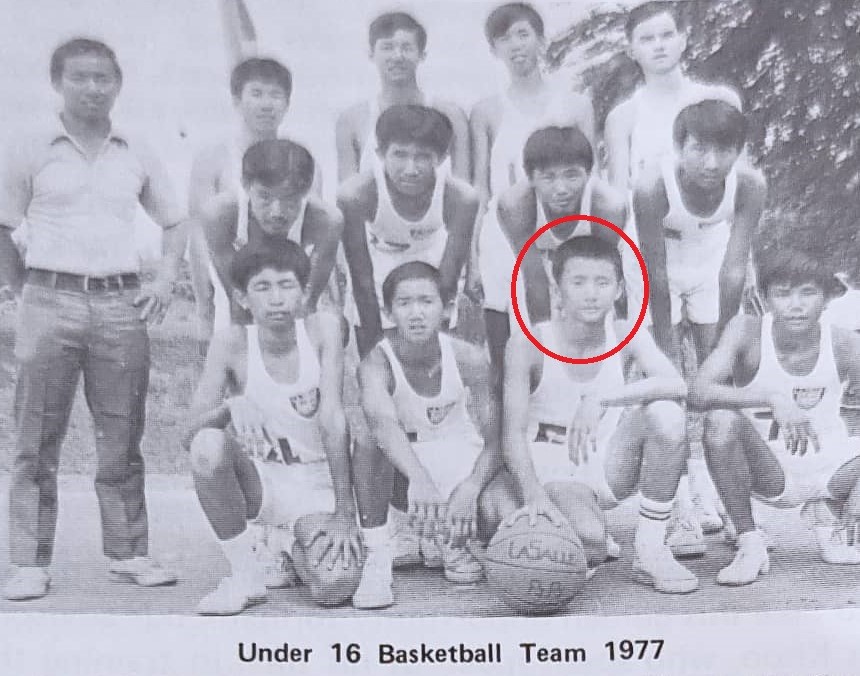 Arriving at the AIA building, I felt a sense of déjà vu as my last Teh Tarik was also in the same building. This time, my TTWS person of the hour is Chew Fook Aun, Deputy Chairman of Lai Sun Group. The plan was to meet Chew at his office before we go for lunch at the Hong Kong Jockey Club. As the elevator door opens on the 19th floor, I am ushered to Lai Sun's large and tastefully decorated conference room with a breathtaking view of Victoria Harbour. I take my seat in the centre of the room in the oversized brown leather sofa that feels like a gigantic day bed. Before I had time to enjoy basking in the sun, Chew walks in with a big friendly smile. We exchange greetings and pleasantries with yoga-style palms pressed together. I have known Chew and his family for almost a decade, and so I began by asking how his family was coping in these abnormal times.
After pleasantries and family updates, we begin the interview talking, as everybody does these days, about COVID-19. Chew compares this pandemic to SARS, and says, "given COVID-19 is a health crisis, the situation is worse. While SARS was quite depressing, the period was shorter. SARS came in February and by early June, it had disappeared. COVID-19, on the other hand, is still spreading and has become worldwide. So, COVID-19 is worse." Comparing the current economic recession to that during the Asian financial crisis, Chew reflected that back then, "it all depended on whether you were affected job wise or if you were in debt. I think I came through ok because I was gainfully employed. It helps if you have a job. If you did not have a job during the financial crisis, it would have been more difficult.  Thankfully, we all survived that one."
Chew is no stranger to the media because of his high-profile job and public service appointments. But Chew acknowledges, "I tend not to do personal interviews. Most of my interviews and meetings with the press are all to do with work and my profession. My career is an open book in that sense." At that point, I felt truly honoured that Chew agreed to do this exclusive interview to get a glimpse of the man behind the corporate veil.
Chew and I share something in common as we both started our professional careers in London before relocating to Hong Kong, albeit many years apart. Arriving in Hong Kong in 1991, Chew began his career at Ernst & Young as an accountant. In 1995, he joined Kerry Group, a company run by Malaysian tycoon Robert Kuok. This marked the first major career move for Chew. He says, "ever since working at Kerry, I have been associated with the property sector. And so that is where I remain. That's how I built my roots. Accountancy is my foundation; and then I moved into the property sector rather than remain as an accountant." Subsequently, Chew became CFO of Kerry Properties, which he helped to IPO in 1996.
After ten years at Kerry, Chew joined the family office of General Ho Shai-lai, the second son of Sir Robert Ho Tung, to manage the family's property portfolio of six buildings and a hotel in London. As his Midas touch would have it, he sold the portfolio at the height of the property boom in London, just before the global financial crisis. Having sold the portfolio, he moved on to Link Reit, the largest real estate investment trust measured by market capitalisation in Asia. He recalled his time at Link Reit as "challenging times because Link was under attack from TCI, the activist fund." TCI, a London based hedge fund, had bought 18.35% of Link Reit. After Link Reit, he was approached to join Esprit, a Hong Kong listed company founded by tycoon Michael Ying. While headquartered in Hong Kong, Esprit's business was substantially in Europe, which accounted for 85% of the business. After leaving Espirit, Chew joined Lai Sun in 2012. Lai Sun is a Hong Kong listed company controlled by tycoon Peter Lam. Serving as the company's Deputy Chairman, Chew primarily assists with the real estate side of the business.
Sitting in front of a property guru, I ventured to ask what was his philosophy to investing in the real estate market. In his reply, Chew says that, "despite several cycles in Hong Kong – the market has always come back strong. It is a question of holding power." He went on to share that his mother was the one who inspired him to invest in property, "even when I was very young, my mother always instilled in me that the first thing you should buy is your own home, to have a roof over your head rather than to buy cars. That instruction, if you want to call it, has taken root in me and I have dutifully obeyed my mother and bought property."
Looking at Chew's illustrious career working for several tycoons and listed companies, I asked Chew what was the secret to his success. Ever so humble, Chew replies, "anyone who wants to be successful needs to be hardworking. But being hardworking is one thing and being lucky is another thing. I was lucky as opportunities opened to me when I was looking for a job. Sometimes you get opportunities but don't know what it will bring and entail. I managed to make the most of opportunities and move beyond just being an accountant." Like many successful people, Chew is an early bird. An unusual habit of his is to start his day swimming at the Football Club at 6:15am, and he would be at work by 8am. "I am very disciplined. I like to start early. I like to clear my email and desk before the day starts. Usually when the day begins, I will have lots of meetings and phone calls, so it is difficult to do your own paperwork.
As Chew is a role model to many, I asked who would be his own role model. In his reply, Chew shared that, "when I was growing up, I heard about Robert Kuok. I never expected to get a chance to work for the Kuok family. It was very much serendipity to be able to work for the Kuok family in Hong Kong. So that was quite fortuitous." I probed further how he got to work for Robert Kuok. And Chew pointed it to serendipity and how he attended Malaysian social functions that connected him to Kerry Group. "When I came to Hong Kong, I attended various social circles and one of them was participating in the Malaysian Association functions. And one of the people I met was Joyce Khoo who was head of HR at Kerry Group. After knowing her for several years, on one occasion she took me aside and asked if I was interested to work with Kerry Group. Although I didn't know what it would entail, I was happy to give it a try." And the rest is history. 
The second part of the interview took place in the fine dining Derby at the Hong Kong Jockey Club. I chose the Jockey Club as it would be home ground for Chew who has provided long services to the Club. He is the current President of the HKJC Race Owners' Association. As a long-term horse owner, he has kept a number of horses and named them after his favourite places. Penang Hall has received a total earnings of over HK$4.87 million, London Hall of over HK$4.2 million, Melbourne Hall of over HK$914,000, and lastly, P.J. Hall of over  HK$726,000. As we walk into the Derby, Chew is immediately recognised by both patrons and staff. Over lunch, I learn of Chew's many other community services. Chew carries a lifetime of public service appointments and there are too many to list, but some of his current appointments include serving on the Boards of the Asian Youth Orchestra and the Hong Kong Sports Institute; and Vice President of the Hong Kong Football Club and former Chairman. He is also a member of both the Barristers Disciplinary Tribunal and ICAC's Operations Review Committee. He also supports the Childhood Development Centre where his wife Sabrina is the Chairwoman. Chew is a Fellow of both the Hong Kong Institute of Certified Public Accountants and the Institute of Chartered Accountants in England and Wales. 
Born in Petaling Jaya, some of Chew's favourite childhood memories include playing basketball, table tennis and badminton for his school teams. His father was a senior executive who had access to the company's bungalows in Penang and Port Dickson where the family would spend holidays together.  Leaving Malaysia partway during Form 4, he attended boarding school in the UK, but Chew still considers himself a thoroughbred LaSallian. When asked why he left for the UK so early in his childhood, Chew jokes, "in a way, I was a sacrificial lamb. My middle brother was going for O-levels at 13. But because he was quite young, my parents were not quite comfortable, so they asked me, why don't you go with him?" After boarding school, Chew went on to read accountancy at the prestigious London School of Economics. Chew trained with Ernst & Whinney as a Chartered Accountant before moving to Hong Kong. Hailing from a family of accountants, his two brothers are chartered accountants who in turn married chartered accountants. His cousins are also chartered accountants as are his nephews and nieces. I think that I can safely conclude that Chew's family enjoys number crunching!
One of my favourite questions to ask is about life-defining moments. When asked what were Chew's three life-defining moments, he took some thoughtful moments to reflect. In response, he said firstly, "working in the City during the heydays of London when Maggie Thatcher was in power. London was going through a big boom. And it was really exciting. Those were the days when you went for lunches and did not come back. Or you go out for happy hour and finished when the pub was closed. It was very good fun. It was a period that I really enjoyed." In contrast, Chew's second life-defining moment was more sobering. "Living through the Asian financial crisis in Hong Kong put a lot of backbone into you as a professional – part of your career development if you want to call it that. It was a good six years from 1997 from Asian financial crisis to post-SARS. And after SARS and CH Tung stepping down, Hong Kong took off again. So, if you look at that, it was a very difficult and challenging period." Chew's third life-defining moment was when his son Alexander was born premature. Alexander's birth coincided with the Asian financial crisis, and it was a difficult time both personally and professionally. A doting father, he proudly shares that his son just celebrated his birthday a couple of days ago.
We shift gears to some light-hearted talk about fond memories of Malaysia. Although Chew's work is in Hong Kong, his heart still remains in Malaysia and he still visits four to six times per year. He says, "I have relatives in Penang and Sabah. And for some of our holidays, we go to resorts like Langkawi and Pangkor." No Malaysian interview is complete without talking about makan. Chew fondly recalls enjoying his bowl of Hokkien Mee at "Ah Wah" which is off Jalan 222. He also likes a good plate of satay with a glass of sugar cane. His favourite Malaysian fruit is none other than Musang King. As for the arts, he is a keen collector of works by Penangite Choo Beng Teong, who is famed for his exquisite painting of birds. I also learnt that Chew has been a sportsman since young. "Sports is very much a part of my psyche. I still do a lot of sport." He enjoys swimming and playing squash regularly, and in the past year, he has started to pick up golf at Shek-O. In addition, he also shares my appreciation for vintage cars, which was how we first met a decade ago when I was a board member at a car club.
As we approach the end of our lunch, I asked Chew to share some positive message for the youth of today. Chew said, "we need to get over COVID-19. It is very important to get back to some semblance of normality. If we get over COVID-19, the government needs to come out with social measures to ease social unhappiness in Hong Kong. Originally, a lot of this came from social issues like housing. In addition, separately, the youth needs to be educated on the history of Hong Kong, to know where Hong Kong came from. This will bring a sense of belonging."
As Chew is most engaging, our time together passes by quickly. As I settle the bill, I thank Chew for taking the time for doing this rare interview. And to all our lovely readers, please stay tuned for my next column.
Sehingga kita jumpa lagi over a cup of Teh Tarik!
                                                      Saniza Othman
                                                     Autumn 2020